Classic Club Sandwich
---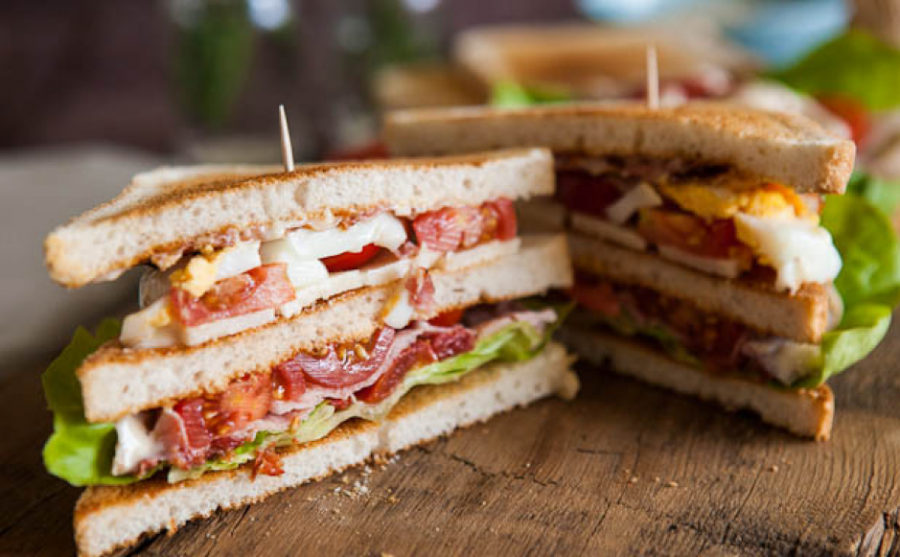 A club sandwich, also called a clubhouse sandwich, is a sandwich of occasionally toasted bread, sliced cooked poultry, fried bacon, lettuce, tomato, and mayonnaise.[1][2][3] It is often cut into quarters or halves and held together by hors d'œuvre sticks. Modern versions frequently have two layers which are separated by an additional slice of bread, though this is not a required feature of the sandwich. (By definition club sandwich noun: club sandwich; a sandwich of meat (usually chicken and bacon), tomato, lettuce, and mayonnaise, with two layers of filling between three slices of toast or bread.)
The club sandwich may have originated at the Union Club of New York City. The earliest known reference to the sandwich is also an early recipe; "Have you tried a Union Club sandwich yet? Two toasted pieces of Graham bread, with a layer of turkey or chicken and ham between them, served warm. Several other early references also credit the chef of the Union Club with creating the sandwich.
Other sources, however, find the origin of the club sandwich to be up for debate. Another theory is that the club sandwich was invented in an exclusive Saratoga Springs, New York gambling club in the late 19th century.
The sandwich is known to have appeared on U.S. restaurant menus as far back as 1899. The earliest reference to the sandwich in published fiction is from Conversations of a Chorus Girl, a 1903 book by Ray Cardell. Historically, club sandwiches featured slices of chicken, but with time, turkey has become increasingly common. As with a BLT, toasted white bread is standard, along with iceberg lettuce, bacon, and tomatoes. The sandwich is traditionally dressed with mayonnaise. Variations, however, on the traditional club sandwich abound. Some vary the protein, for example, a "breakfast club" that includes eggs or a "roast beef club." Others include ham (instead of, or in addition to bacon) and/or cheese slices. Vegetarian club sandwiches often include hummus, avocado or spinach, as well as substitute the real bacon with a vegetarian alternative. Mustard and sometimes honey mustard are common condiments. Upscale variations include, for example, the oyster club, the salmon club, and Dungeness crab melt
The sandwich is commonly served with a side portion of either coleslaw, or potato salad, and often accompanied by a pickle. The coleslaw or potato salad is often reduced to a "garnish" portion, when the primary side item is an order of French fries or potato chips. Due to high fat and carb content from the bread, bacon and dressing, club sandwiches have sometimes been criticised as unhealthy. In 2000, Burger King came under fire for its chicken club, which contained 700 calories, 44 grams of fat (nine of them saturated), and 1,300 milligrams of sodium, as well as the trans fat from the fryer shortening.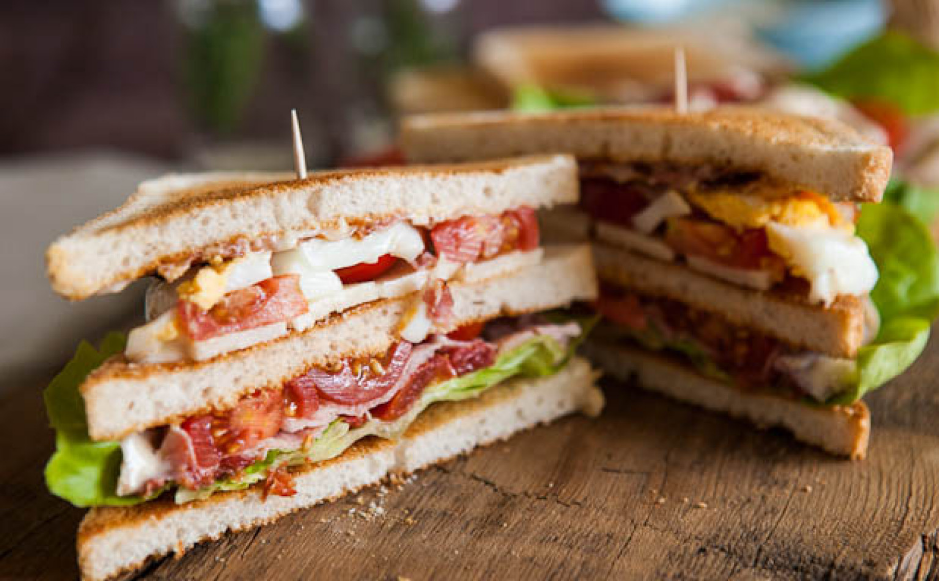 Ingredients
12 slices white bread
3/4 cup mayonnaise
8 romaine lettuce leaves
16 slices vine-ripened tomatoes
Kosher salt and freshly ground black pepper
16 slices crispy cooked bacon
16 ounces sliced roasted turkey
16 frill picks, or plastic cocktail sword
Directions
Toast the bread in a toaster, or under a broiler on both sides. Cut the lettuce leaves in half crosswise and form into 8 neat stacks.
To make a double-decker club: On a clean work surface, arrange 3 bread slices in a row. Spread 1 tablespoon mayonnaise over 1 side of each bread slice. Place a lettuce stack on top of the first bread slice, top with 2 tomato slices, and season with salt and pepper, to taste. Place 2 slices bacon over the tomatoes (broken to fit neatly if necessary) and top with 1/8 of the turkey (without letting any hang over the sides). Season the turkey with salt and pepper, to taste. Repeat with the second bread slice. Carefully place the second layered bread slice on top of the first layered bread, turkey side-up. Cover with the third bread slice, mayonnaise side-down.
Pin the sandwich's layers together by piercing them with 4 frill picks or cocktail swords through the top bread slice, in 4 places in a diamond-like pattern, all the way to the bottom bread slice. Repeat entire process with the remaining ingredients to form 3 more sandwiches.
Using a serrated knife cut each sandwich, diagonally, into 4 triangular pieces (each piece should be secured in the centre with a pick or sword). Serve with potato chips and pickles.